Widespread Dismay over National Infrastructure Commission HS2 Proposals
The report does not suggest any particular rail infrastructure programmes are not worthwhile per se – it merely offers different priorities depending on investment level. A further option would be to increase the amount of investment in order to fully deliver all of the proposed schemes so that the levelling up and green mobility agendas can be met in full….
Maria Machancoses, Director, Midlands Connect, said:
"Some of the options in this report are very concerning. Sacrificing parts of the high-speed network now would short-change millions of people across the Midlands and undermine our efforts to deliver a transport network fit for the 21st Century. HS2 must be delivered in its entirety, including its eastern leg from Birmingham to Leeds. To stall, scale down or delay now will cause irreparable economic damage to communities."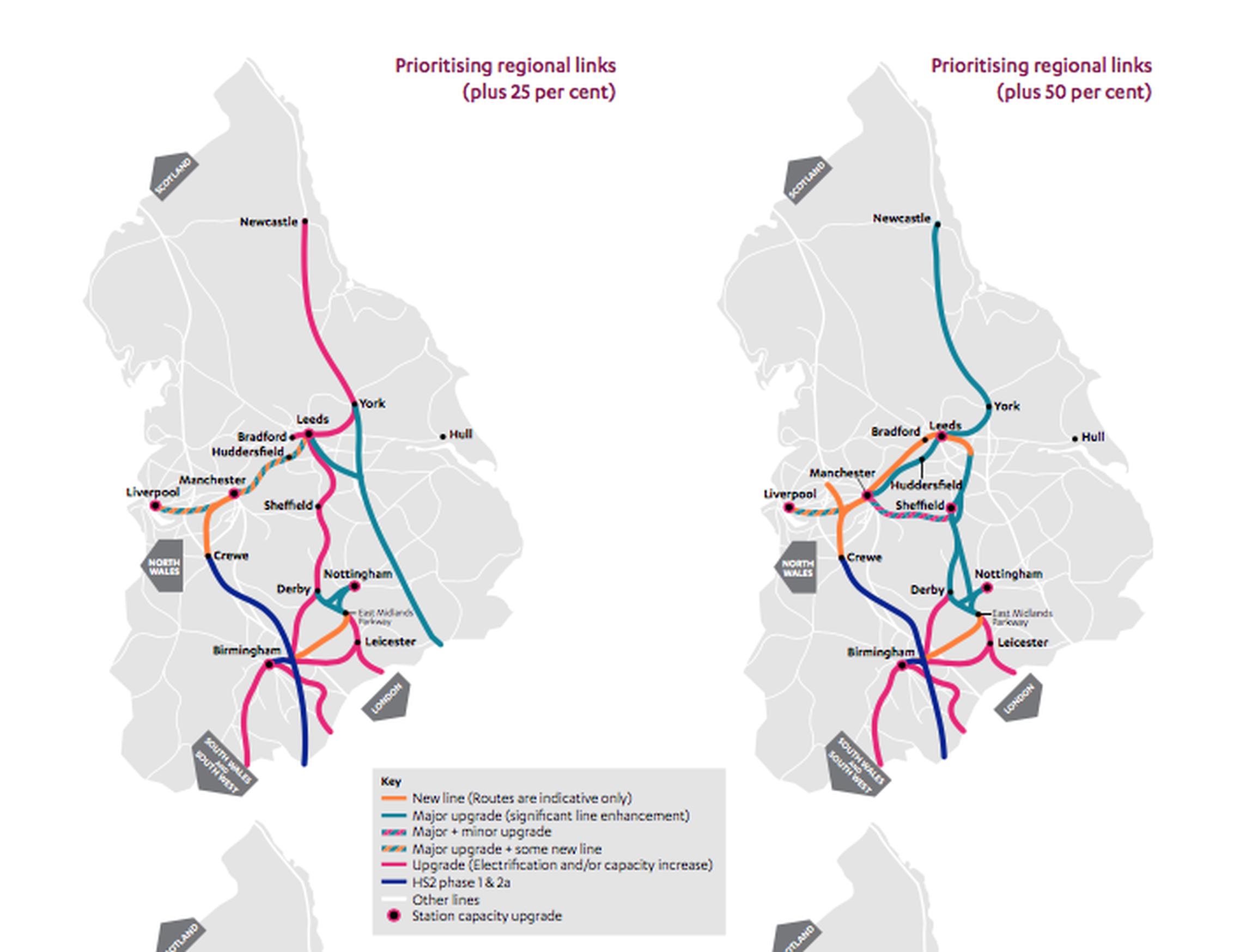 BBC
HS2: Regional leaders call on PM to reject downgrade
Nottinghamshire County Council leader Kay Cutts, Leeds City Council leader Judith Blake and Sheffield mayor Dan Jarvis said the NIC's suggestions "would be a devastating outcome" for cities and communities where the line was due to go.

In their letter they state: "We wholeheartedly reject that report and urge the government to do the same.

"The NIC report is not fit for purpose – they were tasked with integrating these projects, not pitting them against each other."
The National Infrastructure Commission published their report (Rail Needs Assessment for the Midlands and the North) in December and it will feed into the Government's Integrated Rail Plan in early 2021.
The outrage – such as from Lord Adonis – comes from the feeling of betrayal of the levelling up agenda. Since Osbourne first backed it and grandiose plans such as an underpennines road tunnel were mooted the Northern Powerhouse Rail proposals have been very loosely defined. No clear alignment plan has ever been produced, for example will it serve Bradford? There are no clear plans for how they will integrate in Manchester, other than the silly proposals for reversing. Similarly at Leeds trains would come through from Sheffield then have to reverse or bypass Leeds to go on to York.
The NIC should not be criticized for doing the job of evaluating options in cost benefit terms. They can be criticised for sloppy presentation (what happened to the Chord serving Liverpool) and lack of engagement with Transfort for North and Midlands connect and failure to maximise the synergy with NPR.
There are a number of underlying institutional tensions that prevent a rational integrated scheme being considered. TfN has to please many cities. Hence it proposes a 30 mile tunnel to serve Bradford directly when this is unlikely ever to be funded. There are many other examples. In trying to please everyone it has never studied a viable deliverable scheme. Similarly the Planning of Phase 2b never really considered anything other than the 'coming from the South' approach even though this is vastly expensive per KM in Sheffield and Leeds, massive tunneling would be required to approach from precisely the wrong direction to connect North and Westwards in each case.
I suggest that planning for HS2 and NPR should be integrated and planned and delivered as one rolling scheme.
As presciently the late Sir Peter Hall said in 2014
'The key to improving these, particularly east to west, is to integrate HS2 into the existing
network to improve connectivity between Liverpool and Manchester, Manchester and
Leeds, Leeds and Hull…..HS2 and the future of the existing network need to be considered
together.'
It should also be accepted that the current plans for the eastern leg of HS2 are too expensive and bad engineering and planning when onward connections are considered. A cheaper better faster alterative is needed. The 30 billion cost savings in the plan below for NPR and 86 billion savings from cancellation of the current eastern leg proposals would easily pay not just from one integrated system but the transformation of other rail and transit connections across the whole of the North and East Midlands.
There is such an alternative. What this Grand Northern Express proposal does is align each cities stations in the correct direction and align them.
The starting point is that the HS2 proposals from Crewe to Manchester Piccadilly must be committed and brought forward, together with the integrated TfN proposal to connect to Liverpool, including the chord to Liverpool, the link at Tatton enabling trains to traverse from Liverpool to Manchester in 23 minutes, the Golborne link to the WCML and a new High Speed Station for Liverpool at St James Station serving Liverpool Waters and replacing Lime Street for all London and Birmingham bound trips, as well as interchanging directly with Liverpool Metro and the proposed Lime Line along the waterfront (as tram train, above ground at surface). The cost of the tunnel being paid for by land value uplift at Liverpool Waters and Birkenhead Dock. This would also solve the throat congestion at Lime Street.
2. The second leg of the solution is to properly connect NPR Trains and HS2 Trains at Manchester Piccadilly.
For Years the Northern Hub proposals have been promoted in Manchester to solve the issues of bottlenecks of trains at Manchester. The completion of the Ordshall Chord implements part of this but not the bottleneck, requiring extra platforms. There have been no end of proposals for Piccadilly over the years, some involving demolition and/or use of the former Mayfield Station across the street. The whole hub proposals have been put in the air by NPR. The plan currently is to tunnel 7.5 miles from Manchester airport but to drop plans for a tunnel in Manchester city centre forcing trains to pull in from HS2 then reverse out to Leeds etc. Naturally Manchester City Council has been critical of this. Architects Weston Williamson have drawn up proposals for a new station for HS2 and NPR alongside and underneath Picadilly (similar to earlier Atkins proposals) . This would also have the advantage of freeing up capacity on the overhead line vis the Ordsall Chord removing the need for an underground 'picc vic' connection as mooted since the 60s.
The problem with the proposal is it points 90 degrees in the wrong direction treating the alignment of the airport tunnel as fixed and assuming need for connections to Victoria, which doesn't have the platform length or capacity. I propose instead a station in deep excavations mostly (only tunneled under the station) North and South of Piccadilly, emerging from a tunnel in the New Islington Area, with a surface high speed alignment south of Hyde to Woodhead Tunnels (of which more in a moment).
Jake Berry the Northern Powerhouse minister said in Sept 2019
a possible underground interchange at Manchester Piccadilly would inflate the cost of the project and lead to an offset of spend somewhere else on the project; "….spending an extra £6bn on that [Manchester Piccadilly underground] means we have to find £6bn that we won't spend somewhere else – and that might be putting in the parkway station in Bradford. The people of Bradford, if they want to get to Leeds or Manchester, [would] have to get in their car and what we have to absolutely be doing is stopping people getting in their car.

What we are not suggesting here is putting the station underground, rather in a trench and a simple tunnel under Piccadilly, after al you have just tunneled 7.5km. Im confident it could be done for 1bn or less. Secondly does it make sense to spend 6bn tunneling 10 miles under Bradford – no.
3. The Third Component is to Utilise an Existing Disused Connection under the Pennines the Woodhead Tunnels
There are three Woodhead tunnels, to older tunnels Woodhead 1 and 2 are too narrow for lectriciation, Woodhead 3 was designed for it. According to Wikipedia
Although the Hope Valley line was recommended for closure in the Beeching Report, instead, the government decided to cease passenger services on the Woodhead line, allegedly due to the high cost of upgrading and modernising the route. In 1970, the last passenger services ran through the tunnel but the line continued to host freight trains. The last train passed through the tunnels in 1981 when the line was closed.

The tunnels are maintained and now used for other purposes. They are owned by National Grid plc, which used Woodhead 1 and 2 to carry power cables and, in 2008, controversially installed cables in Woodhead 3, which would create difficulties in reinstating rail services and was resisted by a sizeable campaign.
The proposal here is to relocate the Woodhead Cables to a new cable only small tunnel, bore a new Woodhead 4 and and rebore 1 and 2 creating a 4 track cross Pennine link at its narrowest and most direct point between Manchester and Leeds/Sheffield. The slow trains would use teh former Valley alignment and the fast trins would floow a viaduct over the Woodhead Reservoirs. It would link to an at grade new alignment South of Hyde which would only need to tunnel in the New Islington area.
4. East of the Woodhead Tunnels the Line would split at Penistone, south to Sheffield, North to Leeds.
This would be very Similar to the High Speed North proposal as here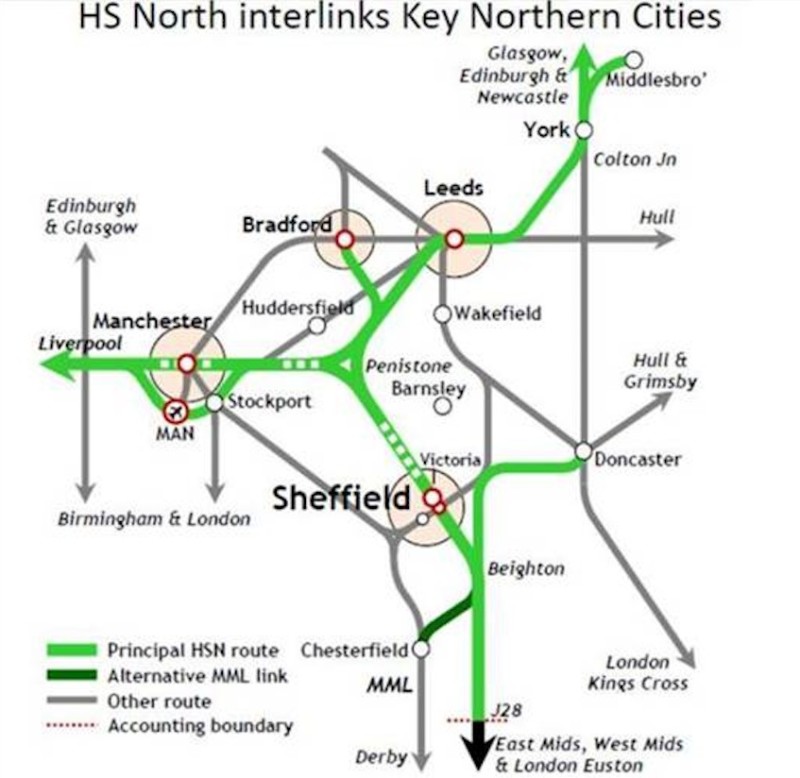 My only changes would be the link past Stockport and on to the Trafford Centre and major development at Charrington Moss would be tram train on former track, as I have suggested before.
South of Bradford I would have a Parkway /Interchange Station at Low more which would connect to Bradford Interchange and the proposed Tram train connections to Forster Square I suggested here. The alternative MML link to Chesterfield would combined with full electrification of the MML would give years of improved use at low cost before the full HS2 eastern leg was built.
This would give Manchester to Leeds and Sheffield travel times of less than 25 minutes. The time from London to Leeds would be cut to 88 minutes, currently 144 minutes. This is only marginally more than the HS2 East 82 minutes.
4. Going to Sheffield the Line would Terminate at a Redeveloped Victoria Terminus, interchanging with the Metrolink to Meadowhall. It would be four track with a restored Woodhead/Don Valley line providing Metro services. From Penistone it would utilise the existing line to Huddesfield, freeing capacity at Sheffield Midland. Both as Tram Train as proposed in 2010.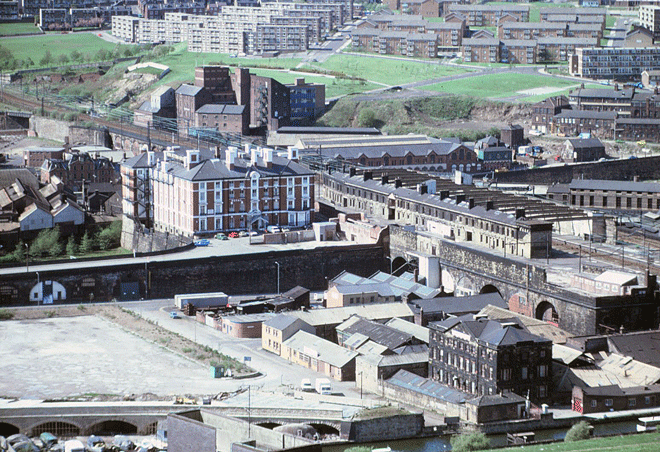 5. Towards Leeds from Penistone it would Follow the M1 Corridor to East Ardly then run alongside West Riding line then making use of a disused rail corridor crossing Geldern Road with a new tunnel under the Aire to a high level station with Concourse over the tracks on the Princes Square Long Term Car Park site with a tunnel for about 1km to the East enabling through train to Leeds and onwards on LNER track to Newcastle. This removes the Leeds Station bottleneck and avoids it becoming a dead end on NPR or HS2. The current safeguarded station area (amended 21st Jan) shows a route coming in from the south and hitting Leeds Station at Right Angles and no through connection with NPR – this makes no sense.
6. The Relatively Short Section of HS2 East should be Completed to Radcliffe on Sour Greenway (not Parking, rather than Totton. This former Power Station should be developed as a zero Carbon Garden City. This already has direct ril connections to Leicester, Derby and Nottingham.
This then only leaves the relatively short gap between Radcliff on Sour and Sheffield, around 50 miles. With the prohibitively expensive approach costs in Sheffield and Leeds removed it should have a much higher CBR and the case for making it is one of capacity. The case for integrating HS2 and NPR was that there was spare capacity North of Birmingham through trains from NSR could make. Unfortunately the planned interchanges were terrible or non existent. This proposal manages to produce nearly the same travel time savings at vastly less cost and much greater connectivity, Less than 5 miles of tunnels would be needed each solving massive rail capacity problems in the cities., using the savings to pay for transit projects in all major northern cities in the transpennine region. There would only be a case for bridging the Sheffield/East Midlands Gap when the 'western y' arms proposed here were filled with capacity.