Th much anticipated RTPI (with TPS and IHT) report on Zero Carbon Transport has been published. It was conducted by LDA Design, with City Science and Vectos. It explores how different places can achieve an 80% reduction in surface transport emissions by 2030, as part of a pathway to net zero by 2050. It is the test for this generation of planners. As I said a year ago – do we know what zero carbon planning looks like?
Itv uses a tool created by Vectos – A Carbon Reduction Hierarchy (The term they use is non descriptive of what it is)
Substitute Trips: Replace the need to travel beyond your community
Shift Modes: For longer trips, use active, public and shared forms of transport
Switch Fuels: For any trips that must be made by car, ensure the vehicle is zero emission
This is very useful. Shifting modes alone will not reduce unnecessary trips from bad planning, and switching fuels will not reduce car use, unnecessary electricity generation, congestion and pollution from tyres. This is essential but its importance is not clearly set out in the report. Its importance comes from where planning's essential added value comes in, being able to reduce emissions from transport in ways that minimise energy use and costs and create efficient liveable places.
In term of methodology.
This research used a carbon disaggregation model based on the UK territorial emissions table for local authorities, published by BEIS[19].

The disaggregation model first allocated terrestrial emissions to each of the four typologies examined in the study. For some places (e.g. the Wotton City-Region) this required the aggregation of local authority data, while for others (e.g. Ebsham) this required disaggregating emissions data. In the latter cases, the relevant local authority data were used and local emissions disaggregated on the basis of population.

The model then used trip purpose and mode share data drawn from the National Travel Survey (NTS), 2011 Census and regional road traffic data from the Department for Transport[20]. The model utilises an in-depth analysis of origin-destination trip patterns to establish commuting behaviours and emissions, and then uses relationships observed within the NTS to allocate carbon across all purposes and modes.

The results (for personal trips) were validated against a similar exercise undertaken by the DfT in 2008[21], while the impact of vehicle emission assumptions on the model were also validated using emission factors in DfT's WebTAG. 
Having disaggregated carbon for each typology, approximately 40 interventions were considered that could reduce emissions from surface transport….

 The carbon reduction impact on each intervention was modelled based on available academic and real-world evidence…

The pathway was modelled on a hierarchical basis…This means that the impact of interventions that 'substitute trips' (i.e. reducing the need to travel) was modelled first, before considering what the additional impact of interventions in the 'shift modes' category would be. The impact of interventions to 'switch fuels' was only considered once all interventions in the first two categories of the SAM Framework had been modelled, ensuring that fuel switching is only used to eliminate residual carbon emissions.
The typologies were different scales of urban area, from 150,000 (around Oxford /Cambridge size) down.
In terms of findings
this research found that no single intervention, or even combination of interventions, will achieve the required 80% reduction in surface transport emissions by 2030, in any of the four typologies.

Furthermore, in order to achieve an 80% reduction, progress in reducing the number of trips and increasing the share of journeys made via walking, cycling and electric public transport will need to substantially exceed the 'best practice scenarios' that previous evidence from the UK suggests is possible. This is a reflection of how far behind the transport sector is on the journey to decarbonisation, and points to the need to pursue a 'do everything' scenario.

It indicates an urgent need to move away from the traditional 'predict and provide' approach that continues to form the basis for much of the UK's transport planning, and towards a 'vision and validate' approach that sets clear targets for trip reduction, mode share and carbon emissions. These targets, and the wider vision they sit within, need to form the basis of a policy framework that supports the planning, funding and delivery of the necessary interventions.

Importantly, many of the interventions needed to achieve these targets are outside the scope of what is traditionally considered as 'transport planning'. Effective implementation is dependent on a much more integrated approach to transport and land use planning – one that puts carbon reduction first.
Agree in part, the pathways must be 'constrained' by overall carbon reduction targets as a prior, and the vision must be of carbon free places at optimum energy requirements. However that alone will not choose the spatial and transport options for you. These need objective cost benefit modelling of options and are not above critique.
This research identified a potential pathway to an 80% reduction in surface transport emissions by 2030. The pathway is hierarchical…

The first step assumes that all new development is planned, designed and delivered in a way that achieves net zero transport emissions, and ideally to be 'negative carbon' by helping to reduce transport emissions at a wider scale. The following steps then reflect the three categories of the[Hierarchy], with the carbon impact of interventions modelled sequentially.
If you adopt the hierarchy you will always produce zero carbon, the test is to what extent it relies on measures at the top (good) or bottom (bad) of the hierarchy. They produced a diagram.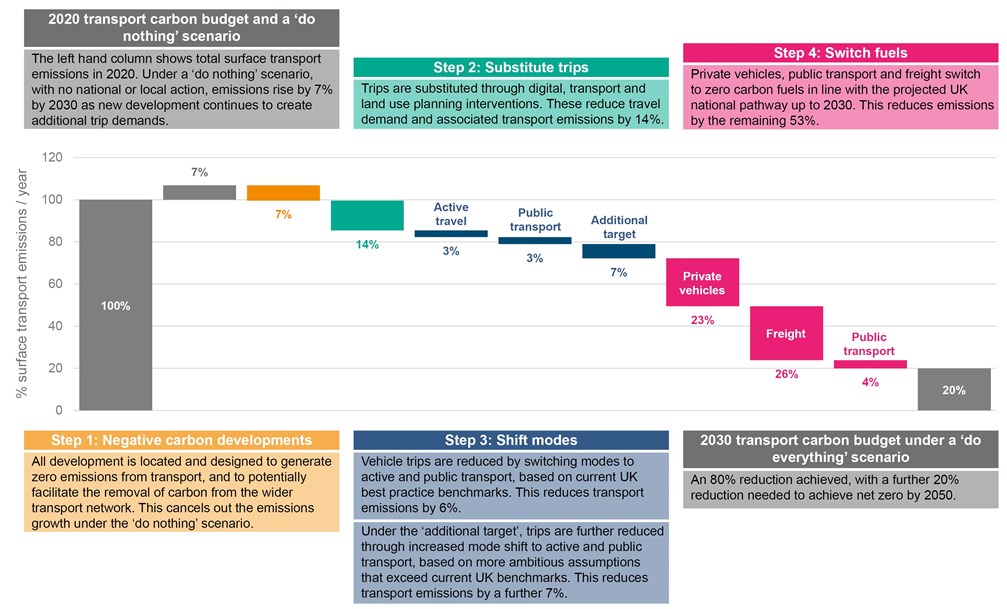 This shows location having a 7% share and fuel switching having a 53% share. A key research question is what does this compare to – what is the null hypothesis of poorly located new urban extensions served only by car as seen in so many Transport for New Homes Report. How much extra to we have to pay for electricity for example if we rely too much on switching fuels and the extra capital costs of extra power generation? I don't expect a figure dramatically above 10% given the inevitably small proportion that new homes play in the total housing stock.
Also the shift modes levels seem low, in particular the impact of designing cycle friendly places where modal share of cycling is often 1/4 of what it could be compared to continental experience.
No does the study tell us where in terms of alternative locational options development should go. This kind of aggregate study cant tell us that – only a study that includes emissions in a Webtag compliant model (as some such as Saturn now does).