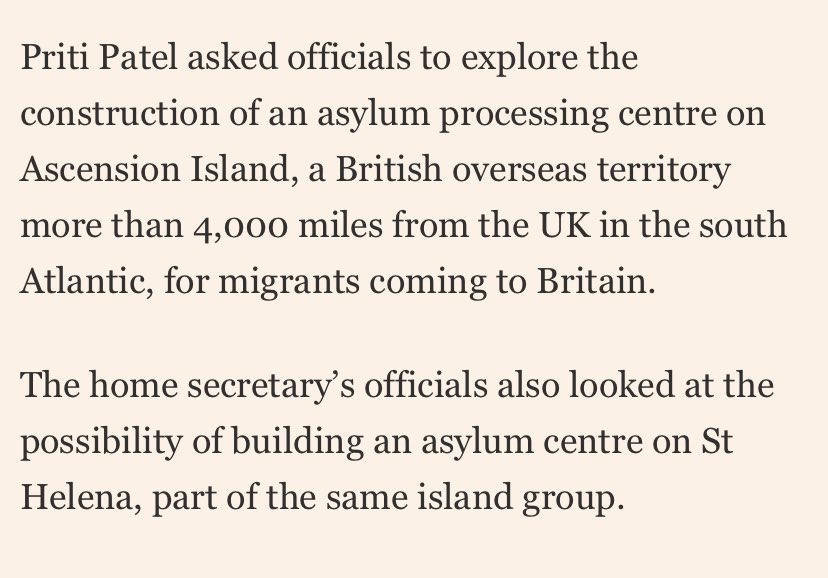 FT
Dear Minister, You have asked me to look into the possiblyilty of an offshore Asylum Concentration Camp Processing Centre at St Helena.
Ascention Island is within the governance of Saint Helena which has a in a framework of limited self-government as a dependent territory of the United Kingdom, whereby the Governor is the head of government and planning decisions are made by an independent Land Control Authority. As such any decision to construct such a facility would need the Crown to instruct the governor, and could be challenged in the Supreme Courtt is the UK government breached its various international obligations on nature protection etc. . 
Ascension Island has a population of only around 800 people most of which are either military personnel at the airbase or civilian personnel servicing them
The island has a number of protected areas.  On 30 August 2019 the Ascension Island Marine Protected Area (MPA) was designated following a recommendation from the Island Council. The MPA covers 100% of Ascension's Exclusive Economic Zone (EEZ), an area of over 440,000 square km, making it one of the largest MPAs in the world. It is a critical nesting ground of green sea turtles and seabirds.
The island has 10 species unique to it. Its central volcanic peak is Green Mountain a national park.
The island is steeply sloping which makes building difficult however there are a number of potential developable areas around the airbase and military area. However supplying the logistics and workforce to build a settlement capable of holding 105,000 population within three years would be highly challenging. Giuven the limited size of the isalnd and developable areas it would have to have one of the highest population densities oin earth. Comparable to central Shanghai.
The Island has no port capable of handing large shipments of construction material. It has only a small jetty and its seas are notoriously rough given the lack of a shallow foreshore and its exposed mid Atlantic location. Most goods and people would need to be transported by air. However the since
Poor runway conditions at RAF Ascension Island led in April 2017 to the cancellation of twice-weekly flights from there to the UK (RAF Brize Norton). An Airbus A330 aircraft operated by AirTanker Services on behalf of the Ministry of Defence (United Kingdom) carried out those flights, called the South Atlantic Air Bridge, although a limited number of commercial passenger tickets were available.
While A330s are for now unable to land at the airport, the United States military uses Air Transport International flying 757 "combi" jets to maintain a twice monthly flight between the island and Patrick Air Force Base in Florida for the use of its personnel only, while the (MV Ascension) supply ship regularly services US facilities.
Thereofe the first task would be to rebuild the runway or build a new one – likely taking two to three years or arrnage for all transport of Asylum seekers to be via Florida which would be politically difficult.
A major problem would be lack or fresh and waste water on the island. Thye islands first inhabitant he diary records Leendert Hasenbosch died after a desperate search for water and supplies, as he resorted to drinking the blood of turtles and seabirds and, eventually, his own urine. A new reservoir would need to be constructed and fresh water imported which would require a new port. Water treatment works would be needed to treat sewage because of the protected nature of the waters around the island.
The effort would be equivalent to constructing a large new town requiring many billions of pounds of investment. It would require extensive community facilities, health facilities and schools to avoid any accusation of being a 'camp'. Construction would likely take 10 years or more following several years constructing infrastructure.
The proposal is likely to be extremely controversial given the sensitive ecosystem of the Island and the strong protections that apply.