The Sundays (Sunday Times etc) are full of briefings that Jenryk and Cumming are planning a 'liberalisation' to boost housebuilding and growth post Covid-19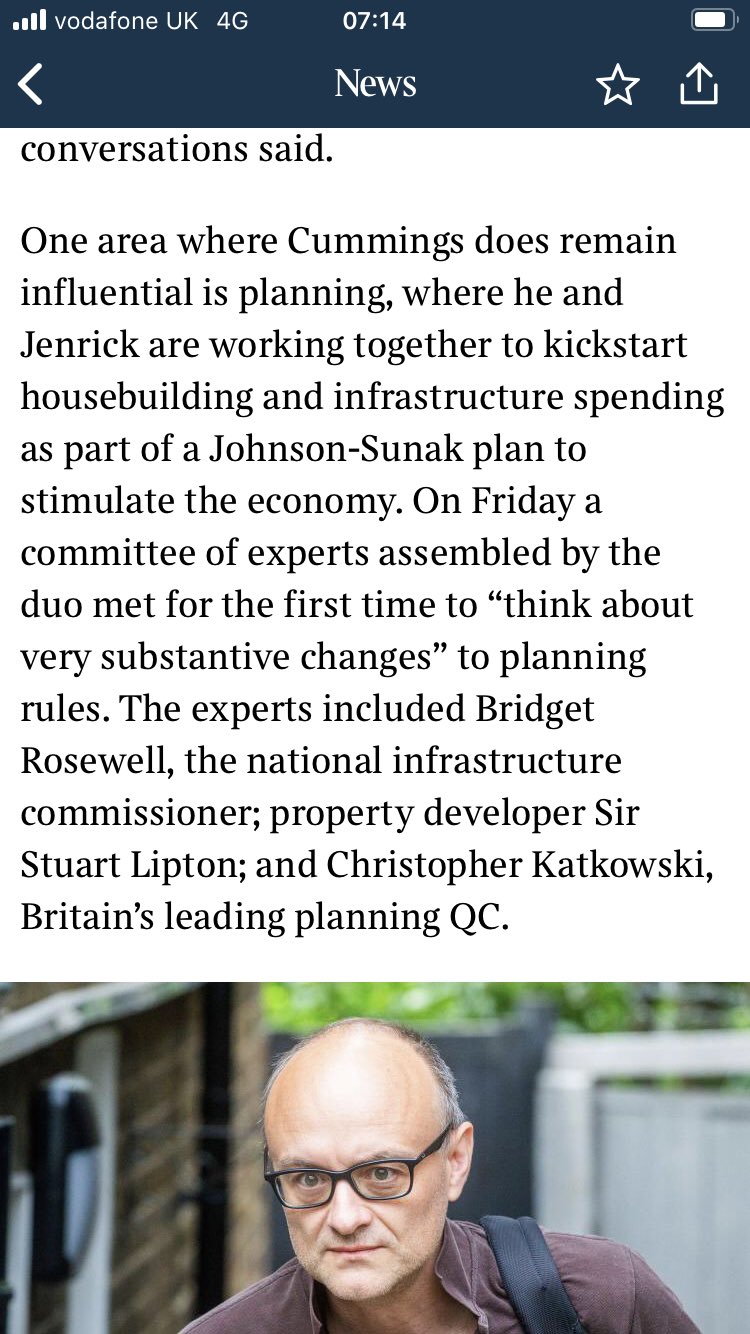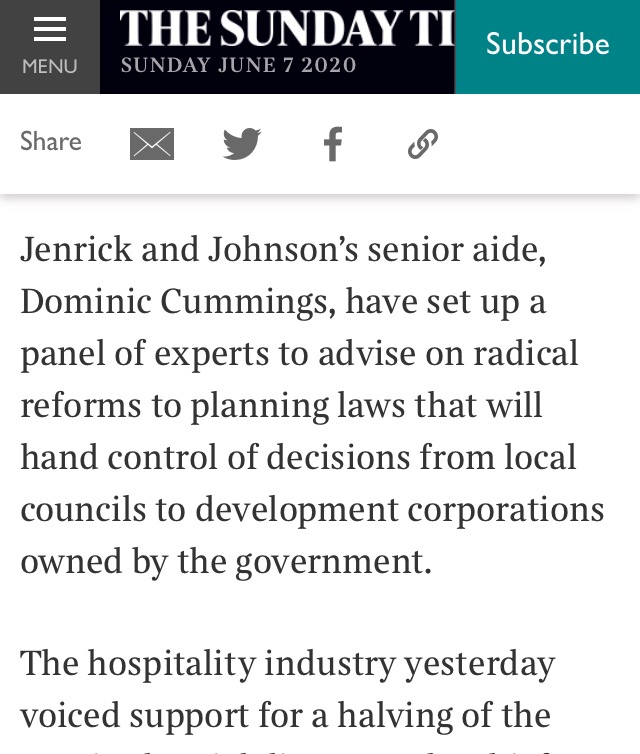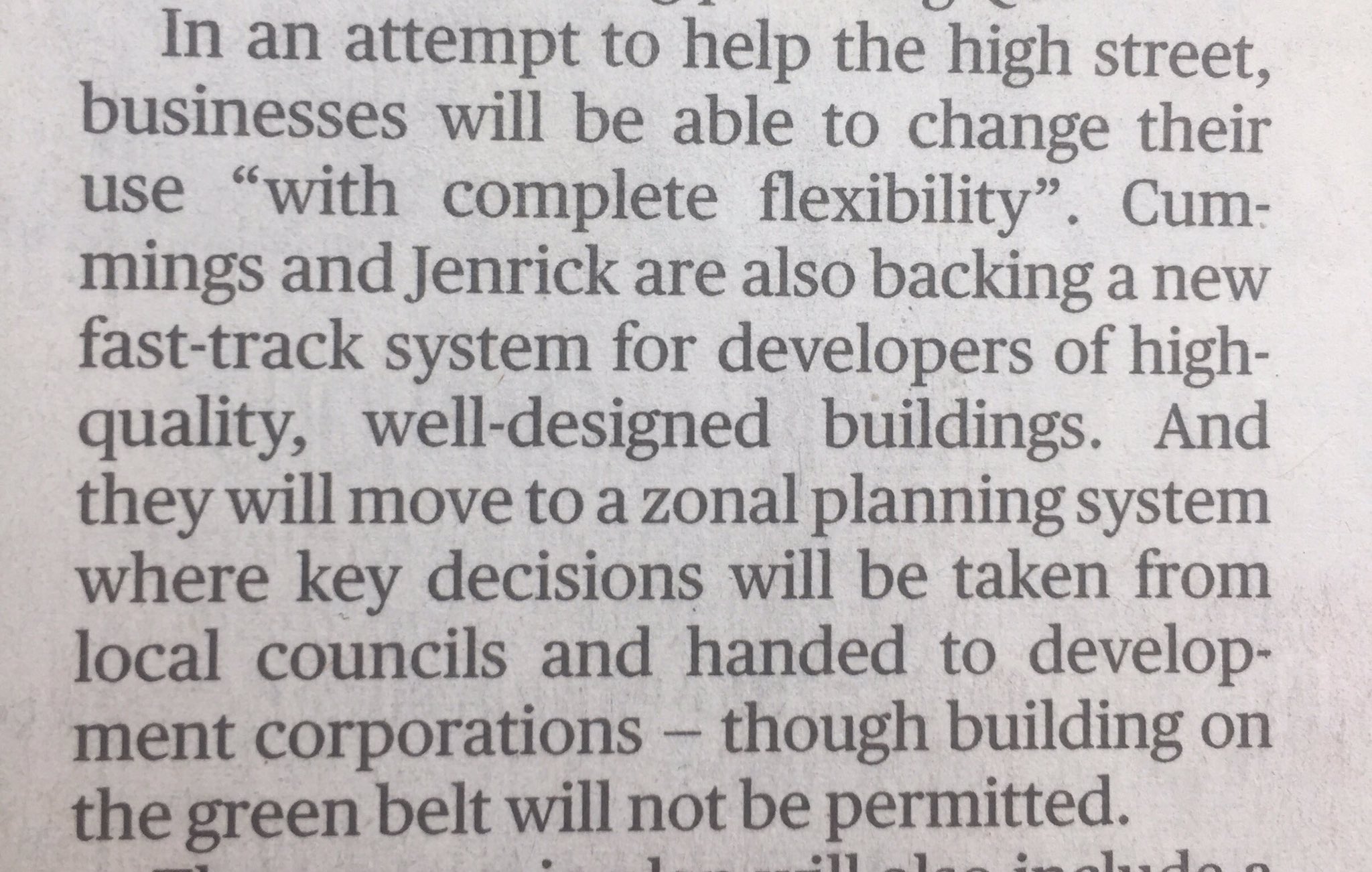 Hmm another 'expert' group lacking planners and composed entirely of hacks and axegrinders – like PAG – that turned out well didn't it.
Cumming's goal was set out in the Sun last year.
Dominic Cummings, the senior advisor to the Prime Minister, told ministerial aides of the plans in a briefing on Tuesday 17 December. The reforms will be aimed at boosting supply to meet the housing crisis. He is reported to have said:

"Every time a review is done, planning always comes up as a big drag on productivity, but nobody ever does anything about it. But we are going to do something about it."

The reforms discussed include extending permitted development rights to allow landowners to build upwards by adding up to two extra storeys on homes and blocks of flats without needing approval.

Other putative reforms include reclassifying and releasing greenbelt land where there are existing developments and nearby train stations, a new system of rebates if councils delay in deciding applications and scrapping the need to apply for permission to demolish  commercial properties to replace them with residential uses.
The Javid agenda of widening PD rights will be implemented alongside the Planning White Paper – and will as disastrous and misconceived as the Office PD rights – leading to a wave of ugly Fulham Style mega roof extensions.
We will see if the rolling back of the Green belt – Javid's plan blocked by May, will go ahead, it looks not.  The concept of development corporations is new.
The problem,  development corporations were always and everywhere designated as an instrument of implementing government policy,  Policy as to what goes where.  Either as development within towns or new communities.  There is no such policy.  The government has for a decade completely withdrawn from the field of deciding strategic policy as to what goes were.  There is no equivalent of national urban policy.  There is no equivalent of the Abercrombie plan to determine locations of new communities.  Green Belt cannot be designate outside the local plan route.  It only exists because of local plans.  Similarly zoning, you need a zoning plan in the first place.  Without a plan you don't solve the underlying problem of not enough land being zoned for urban development and by ruling out the Green Belt you rule out the one mechanism that has worked well in recent years to solve the problem – strategic Green belt Reviews.
Trying to create development corporations without a strategy has been tried and failed.  Look at the Urban Development Corporations designated under the Housing and Planning Act.  They had no powers to do local plans, and the legal advice was they couldnt do urban expansions.  Everyone involved in them knew they were a waste of time and they were swiftly abolished.  Lets say Cummings tries to designate a a development corporation to develop new communities in the CAMKOX Arc.  If there was a national policy, like for HS2, they would not need SEA.  But there isnt so one is required.
The government has totally failed to give local government support in 'larger than local' planning.  So it hasnt said where overspill growth from London would go.  Even Nicholas Ridly did that; and it hasn't given local authorities support to the land uplift and rapid transit projects that would make new communities work.
Yet again the government dusts off half baked and ill thought out non plans drafted by junior no nothing Treasury incompetents.