A lot of speculation in the press today that the review group will scrap it as the panel includes some critics.  I note however the critics on the panel have all questioned it on rational cost-benefit grounds and are not doctrinal opponents. Let looks at the terms of reference.
For the whole HS2 project, the review should rigorously examine and state its view on:
whether HS2 Ltd is in a position to deliver the project effectively, taking account of its performance to date and any other relevant information

the full range of benefits from the project, including but not limited to:

capacity changes both for services to cities and towns on HS2 and which will not be on HS2
connectivity
economic transformation including whether the scheme will promote inclusive growth and regional rebalancing
environmental benefits, in particular for carbon reduction in line with net zero commitments
the risk of delivery of these and other benefits, and whether there are alternative strategic transport schemes which could achieve comparable benefits in similar timescales

the full range of costs of the project, including but not limited to:

whether HS2 Ltd's latest estimates of costs and schedule are realistic and are comparable to other UK infrastructure
why any cost estimates or schedules have changed since the most recent previous baselines
whether there are opportunities for efficiencies
the cost of disruption to rail users during construction
whether there are trade-offs between cost and schedule; and whether there are opportunities for additional commercial returns for the taxpayer through, for example, developments around stations, to offset costs
what proceeding with Phase 1 means in terms of overall affordability, and what this means in terms of what would be required to deliver the project within the current funding envelope for the project as a whole

whether the assumptions behind the business case, for instance on passenger numbers and train frequencies, are realistic, including the location and interconnectivity of the stations with other transport systems, and the implications of potential changes in services to cities and towns which are on the existing main lines but will not be on HS2

for the project as a whole, how much realistic potential there is for cost reductions in the scheme as currently planned through changes to its scope, planned phasing or specification, including but not limited to:

reductions in speed
making Old Oak Common the London terminus, at least for a period
building only Phase 1
combining Phases 1 and 2a
different choices or phasing of Phase 2b, taking account of the interfaces with Northern Powerhouse Rail

the direct cost of reprioritising, cancelling or de-scoping the project, including but not limited to: contractual penalties; the risk of legal action; sunk costs; remediation costs; supply chain impact; and an estimate of how much of the money already spent, for instance on the purchase of land and property, could be recouped

whether and how the project could be reprioritised; in particular, whether and, if so how, Northern Powerhouse Rail (NPR) (including the common sections with HS2Phase 2b) could be prioritised over delivering the southern sections of HS2

whether any improvements would benefit the integration of HS2, NPR and other rail projects in the north of England or Midlands

any lessons from the project for other major projects
Three key points.  Firstly as everyone acknowledges the key benefit is capciaty and there is no plan b to increase intercity capacity.  Secondly the overuns have been on land aquisition primarily.  This is a sunk cost.  It is an application of the sunk cost fallacy to include these, the money cannot be recovered.
There is money within the (too low) Treasury cealing of 56 billion to get to Curzon Street but not phase 2a or 2b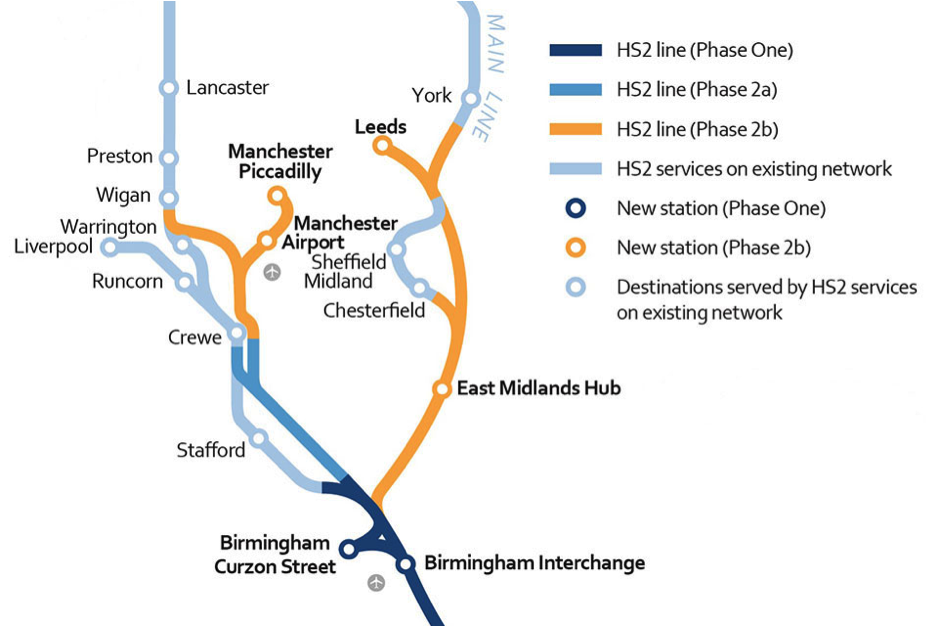 However the cost benefit ratio only significantly increases when you get to Manchester, and potentially Liverpool and HS2 with a chord can cut travel time between Liverpool and Manchester by half an hour.  We still dont yet have proper plans for Manchester Picadilly   So extending 2a North of Manchester Airport would be impractical until the  concept design of the NPR/HS2 interface at Piccadilly is finalised.   The previous chancellor had pledged to look at a direct HS2 connection requiring a new station in Liverpool.  However designs are at such an early stage that it would be impractical to include in 2a.
The review includes a number of measures oft touted in terms of improving CBA including termining at Old Oak in the short term, unlikely I think given sunk costs.  Although the speed and headway (18 trains per hour) have been criticised as costly the UK has gained much greater experience of 'digital railway'/japenese style signalling, and several examples of this will be in operation by the mid 2020s.
Two sections of the paper struck me.
whether there are opportunities for additional commercial returns for the taxpayer through, for example, developments around stations, to offset costs
There are several examples of where this is planned, at Birmingham Interchange for example and Taton.  There are several more where it is possible at Old Oak (with a much more publicly led land acquisition strategy then planning including the Car Giant Site), at Calvert where it could interchange with East West Rail (providing there was additional terminal capacity in London) and at the proposed Garden Town at ROF Swynnerton where a maintenance depot and new junction to the M6 is proposed as well as reopening the rail link to Stoke.  Half way between Brum and Manchester the strategic case is much the same as Calvert.   All of these require additional accelleration/deceleration/passing lines (as proposed already at Birmingham Interchange and japenese style light trains (proposed anyway) – done together these could transform the business case, as like in Japan 25% of revenues could come from commuter traffic.
Another section struck me.
different choices or phasing of Phase 2b, taking account of the interfaces with Northern Powerhouse Rail
The description of 2a is misleading as North of Crewe and the link to Sheffield are both described as 2b.  However the eastern arm is projected to cost twice as much as the link to Manchester.  Large part of this is due to a costly and slow link to Sheffield City Centre when there are several cheaper options.  Also the choice of a Sheffield station needs to be taken at the same time as how it would interface with Northern Powerhouse Rail, for example a link through to Sheffield Victoria then eastwards to the Woodhead Tunnels, though the diasdvantage of this is the loss of a Braford alignment.  Leeds and Braford are so close though a fast metro style link makes much more sense than a HSR link as the headway impact on including a Bradford (or Rochdale) links are crippling of the business case.
if you want to rapidly massage the CBR than the easiest thing to do to delay phase 2b north of Taton for 5 years as well as North of Manchester Airport, compensating whilst announcing NPR/HS3 with links to Sheffield and Liverpool, though delayed by 2-3 years whilst the precise alignment and connection details are finalised.  This could save around 20 billion in current spending committments for the project.  At the same time announce land value capture programs at Old Oak Common, Birmingham International, Calvert, Taton and Swynnerton .  Each one of which could yield around 5 billion (3 billion after local infrastructure) adding 15 billion to the benefits pot.  #
Both of these together bring the project within the Treasury cost envelope.