Readers of this blog will have spotted several posts about the growth potential along the South East Coast mainline between Croyden and Ashford.  Back in June 2018
Folkstone and Paddock Wood are of Course on the  original route of South Eastern main line now known as the Redhill-Tonbridge-Ashford line .  Two track and third rail not promising, as well as feeding into Charing Cross, which was deemed too small a site from the day it was planned in the nineteenth century, however it is the straightest railway line in the world and has surprisingly little development along it, with many settlements on one side only as the first line from London to Dover and forced to take a sharp southern line first as the Admiralty objector to tunneling under Greenwich observatory serving settlements was a secondary consideration)  and in towns such as Ashford and Paddock Wood already four track.

My bold solution is to separate fast and stopping services by extending Crossrail II via a 5 mile tunnel from Chessington to Redhill linking to the South East Mainline and diverting all fast services from Charing Cross (you could still catch a slow train to Clapham Junction and change there) – from there it would be limited stop high speed rail all the way to Ashford and the Eurotunnel, also serving a parkway station for the Garden City planned at Otterpool Park (Which I first suggested).   I term this the Garden of England line.
There is some similarity to the HS4 Air proposals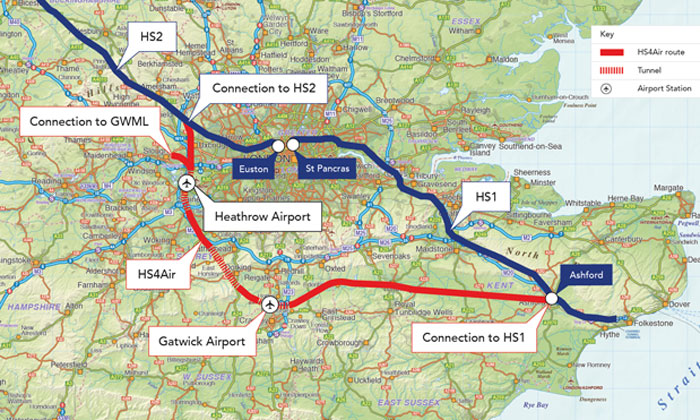 "In a way HS4Air can be regarded as a high-speed railway version of the M25 around London, except that it allows much faster journey times with no congestion and with far less impact on the environment."

The proposal illustrates the route to be approximately 140km-long between the connections with HS1 at Ashford and HS2 near Denham. Twenty per cent of the line would be tunnelled to avoid impacting the landscape and 40 per cent would re-use the existing straight railway running between Tonbridge and Ashford which would require simple upgrading to operate high-speed trains.
In the past year all of the authorities along the northern arm of the low weald through which the South East Main line flow have drawn up draft local plans.  So far we have no less than three new settlement scale proposals around existing or planned stations – Marden, South Godstone and Tudesley (in the forthcoming Tonbridge Wells Local Plan), as well as major growth at Paddock Wood.
If you look at the constraints mapping of this area you see the issues to the north and south are heavily constrained each LPA has a narrow strip through which a rail line majically flows through.
Its a terrible third rail line however many of the stations were designed with passing loops, it is the straightest section of rail in Europe and could be upgraded.
It seems extraordinary to me that millions is being spend on planning for billions of spending on East West Rail where no new settlements are yet planned, yet here where several are planned there is no study proposed on upgrading investment.  How can these plans be found sound without a study on capacity etc. on the rail lines as there is no point if the trains arrive full at the platforms or there is no capacity at Charing Cross.  A bold approach supported by the DOT is needed.  In my view we need a proper Garden City proposal of sustainable communities of 'pearls on a string' similar to my proposal for the Central Section of East West Rail  where the scale and nature of rail investment would create an opportunity to form zero carbon communities.