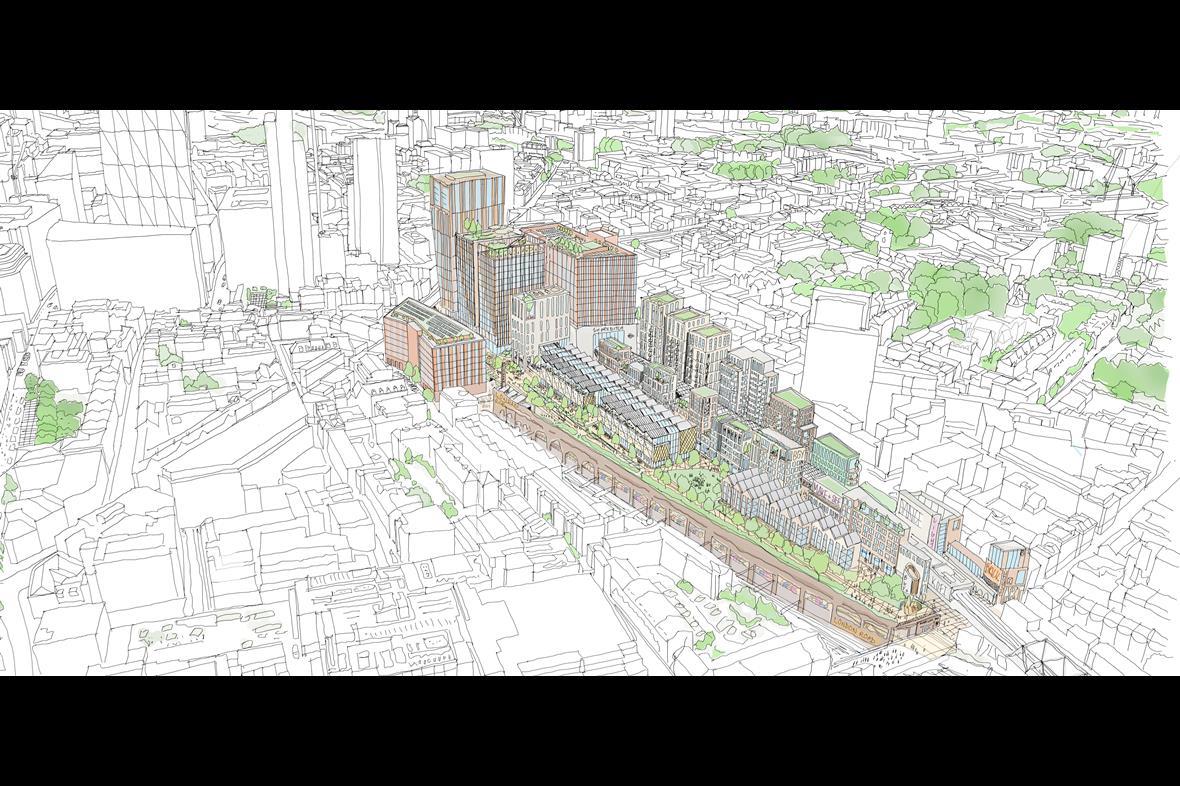 Revised plans have been put to the Mayor of London for Bishopsgate Goods Yard, replacing around 1,300 units in a 46 storey tower in the previous PLP scheme to just 250 in the revised scheme by FaulknerBrowns, Buckley Gray Yeoman, Chris Dyson and Spacehub.
The Mayors of Hackney and Tower Hamlets have greenlit the scheme, but they are amending the original called in scheme so the decision will lie with Sadiq Khan in 2019
The site is an incredibly complex one with multiple levels, rail tunnels underneath and the new East London Line (now overground)  Connection running through it in a concrete box which is designed to be built around and over.  There is also the Grade II  listed Braithwaite viaduct which can only take so much weight on top.
The scheme has been revised down to almost nothing in housing terms to meet conservation and overshadowing concerns.  Only parts of the site can take deep foundations.  These parts are office and culture led.
The concern of the site brief was to create something like London's Highline on top of the listed Braithwaite viaduct.  This was misconceived as unlike the highline it would go nowhere.  The railway viaduct is much better put back into its original use, as a terminus station, London's first since Marylebone.
Look here at Table 5.7, on page 80 of the Anglia Route Study.
New platform 0 located within the shopping area to the west side of London Liverpool Street Station, but potentially requiring platform 1 to be shortened

Three new platforms between the existing platforms 10 and 11, one adjacent to platform 10 and two within the taxi rank area

Remodelling of the existing platforms 1-10 within the westernmost train shed to allow provision of an additional three 12-car length platforms or an additional two 12-car and two 10-car platforms

Creation of an additional terminus station to the north of London Liverpool Street within the area of Network Rail owned land adjacent to Shoreditch High Street station on the East London Line. This would potentially be utilised by services from the West Anglia route.
Where the rail line bridged over the Liverpool street entrance from the south of the existing line is still undeveloped. It is possible to create a new terminus here, just like the original terminus of the Great Eastern Railway which became Bishopsgate Goods Yard after Liverpool Street Opened.  Only now not just a terminus as the East london Line (now the Overground)  links through, with the on site new Shoreditch High Street Station,  with its extension to Highbury and Islington . This could make a new terminus and interchange important in terms of linking through between North est London and the East of England and reliving overcrowding at Liverpool Street rail and underground stations.  A less than 300m underground travelator could link through to Liverpool Street Station and suburban London Overground trains could have dedicated platforms at Bishopsgate itself.
Why is this important?  The lines into London from the East of England go into Fenchurch street (the Southern Branch of the London Tilbury and Southend (C2C) line) and Liverpool Street (the West Anglia Line to Chelmsford, Colchester, Ipswich and Norwich and the branch to Southend Victoria).  Both lines are full with the greatest throat constraints of any London termini and Fenchurch Street the smallest number of platforms (and no tube connection).
There are things that can be done to increase capacity at both such as increasing trains to 12 carriages where possible and in the medium term digital railway (Japanese style signalling), but these wont increase capacity by more than 15% or so.  This leaves very little headway for 'Transit Orientated Development' around exiting or new Stations in South of North Essex.
Essex is a big county with huge housing requirements under the standard method till 2050.  Its roads cant cope with congestion on the A13 and A127  already the busiest A roads in the South of England taking motorway levels of traffic, which will only get worse with the Lower Thames Crossing.
The natural inclination is to place development at railway nodes like Marks Tey, West Tey being one of the North Essex Garden Communities, between 20-30 thousand dwellings, potentially twice as large as Ebbsfleet.  But the West Anglia Route is at capacity here.
South Essex has equally stark choices.  Even after accounting for brownfield sites and outstanding permission and sites in emerging local plans it has a shortfall of roughly 50,000 dwellings to 2037, to which you can add 60,000 more required by the standard method to 2050.  These will inevitably be primarily on the Green Belt, and it is likely sites at or close to existing and new stations will be favoured including the previously promoted Tillingham Hall site south of West Horden.     110,000 dwellings. 10 Secondary School sized Garden Communities.  Most of these, unless you add options for commuting by building a Kent Essex Rail Connection by adding an additional rail tunnels to the East London River Crossing (as the Thames Estuary 2050 Armitt Rport suggested, and which the government still hasn't responded to in full). will rely on extra capacity being found to Fenchurch Street and Liverpool Street.
At Fenchurch street there is a plan having been on the drawing board for years, redevelop Tower Gateway as a new terminus taking the DLR to bank into tunnel earlier, and the new tunnel providing an underground link to Fenchurch street.  This will be expensive but would dramatically improve Capacity and interchange at Fenchurch street and transform the accessibility of South Essex.
In terms of the Greater Anglia Line the Anglia Route study sets out the only realistic option for major capacity increase. The cover for a new interchange could be lightweight and suspended, like the Fosters Design for Dresden Station, meaning it could be built  over but not on top of the  viaducts.
Together they could unlock the potential for up to 140,000 homes, and potentially 200,000 if the potential for a new City South of Norwich roughly in the Diss Area is considered and further expansion of Ipswich.
In the run of things loss of the max four-six storey buildings on top of Braithwaite viaduct is small beer.
How much precisely could this potential be blocked.  We don't know because a Eastern Rail Study covering Essex and the Anglia Line has not been commissioned, nor has a study into the potential for a Kent-Essex Rail link linking the North and South of Thames Arms of Crossrail.  No-one is willing to take ownership and responsibility for this in our less than integrated system of land use and transport planning in England where the strategic plan for London takes little notice of that for South Essex and North Essex and vice versa and given the lack of staff and funding (Transport for East is one guy – the same overworked guy as for Essex, compared to TfL?).
In the lack of coordination the SoS for Communities and Transport need to issue a holding direction to ensure this potential is not blighted before it is studied and the EUV of the land is not raised to make the scheme impractical.  Network Rail have a clear conflict of interest here, they own the land.  If Essex and Homes England want a large long-term pipeline they need to get involved behind the scenes. The Mayor of London also needs to take a long-term view, he has enormous leverage here with the East of England authorities and should leverage it so some of the additional housing serves London overspill needs and  some of the land value capture goes towards the new termini.