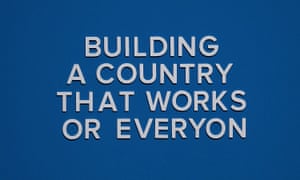 Her Conference Speech housing section below
Some points
Good to see the failed patch and mend approach of Alex (Half Baked) Morton finally out of the window, which accepted we couldn't build enough and simply tried to use HCA funding to buy client votes through 'social rent' and 'help to buy' rather than truly affordable social housing
It is accepted that 'Help to Buy' is a short term stop gap until we rap up house building; at a cost of £10 billion over 4 years is 5 times more expensive than extending council house building by £2 billion over 4 years. That will only increase affordable house building by 1/4, abolishing Help to Buy and using it to enable a national new Town programme would fully solve the problem  (see by blog post and much more to come in a new book) as well as adding around 4% to GDP = more than paying for itself)  So extending help to buy is delaying the solution.  A hugely expensive and largely counterproductive measure that diverts funding from effective solutions and simply and inevitably ramping up land prices and land speculators profits.
May tut tutting to the housebuilders 'you must do your duty to Britain and build the homes our country needs.' is like telling a second world war spiv to do their duty and not sell nylons expensively, or someone holding cellar of ancient champagne to do their duty and sell it all at once to wine lovers to bring prices down.  If the housing market is broken, which it is, why should land speculators bankrupt themselves (having paid a speculative price for land) by selling it at a lower non-oligoplistic price set by a higher output?  It betrays a basic misunderstanding of the economics of housing land speculation.
Gavin Barwell's (ex mp and housing Minister – and Mays new chief of staff) fingerprints all over this – of course May screwed it up.
The dog that didn't bark – the radical Barwellesque measures in the Manfesto for land value capture.  The prime opportunity to announce that missed.  Of course Brexit has squeezed out almost any measure that requires legislation.  So whilst she is PM (not much longer now) and Brexit dominates everything nothing much to put things rights (as opposed to sticking plasters making thing a little bit less worse than they would otherwise would have been) will happen.
The boom in the housing market means that while some have done very well, for many the chance of getting onto the housing ladder has become a distant dream.

And it's that fact, perhaps more than any other, that means for too many the British dream is increasingly out of reach.

Just over a decade ago, 59% of 25 to 34-year-olds owned their own home. Today it is just 38%.

It has always been a great sadness for me and Philip that we were never blessed with children. It seems some things in life are just never meant to be.

But I believe in the dream that life should be better for the next generation as much as any mother. Any father. Any grandparent."

"The only difference is that I have the privileged position of being able to do more than most to bring that dream to life.

So I will dedicate my premiership to fixing this problem – to restoring hope. To renewing the British dream for a new generation of people.

And that means fixing our broken housing market.

For 30 or 40 years we simply haven't built enough homes. As a result, prices have risen so much that the average home now costs almost eight times average earnings. And that's been a disaster for young people in particular.

We have begun to put this right. The number of new homes being delivered each year has increased significantly since 2010.

Our Housing White Paper set out plans to increase it further, ensuring councils release more land for housing, and giving them new powers to ensure that developers actually build homes once they're given planning permission to do so.

And because it will take time for greater housebuilding to translate into more affordable house prices, we have introduced schemes like Help to Buy to support people who are struggling right now.

But the election result showed us that this is not nearly enough.

We've listened and we've learned.

So this week, the chancellor announced that we will help over 130,000 more families with the deposit they need to buy their own home by investing a further £10bn in Help to Buy.

We have announced measures to give the increasing number of families who rent from a private landlord more security – and effective redress if their landlord is not maintaining their property."

On affordable housing

"And today, I can announce that we will invest an additional £2bn in affordable housing – taking the government's total affordable housing budget to almost £9bn.

We will encourage councils as well as housing associations to bid for this money and provide certainty over future rent levels.

And in those parts of the country where the need is greatest, allow homes to be built for social rent, well below market level.

Getting government back into the business of building houses.

A new generation of council houses to help fix our broken housing market.

So whether you're trying to buy your own home, renting privately and looking for more security, or have been waiting for years on a council list, help is on the way.

It won't be quick or easy, but as prime minister I am going to make it my mission to solve this problem.

I will take personal charge of the government's response, and make the British dream a reality by reigniting homeownership in Britain once again.

And let me say one more thing. I want to send the clearest possible message to our house builders. We, the government, will make sure the land is available. We'll make sure our young people have the skills you need. In return, you must do your duty to Britain and build the homes our country needs.