Category Archives:
Capitalisms Last Frontier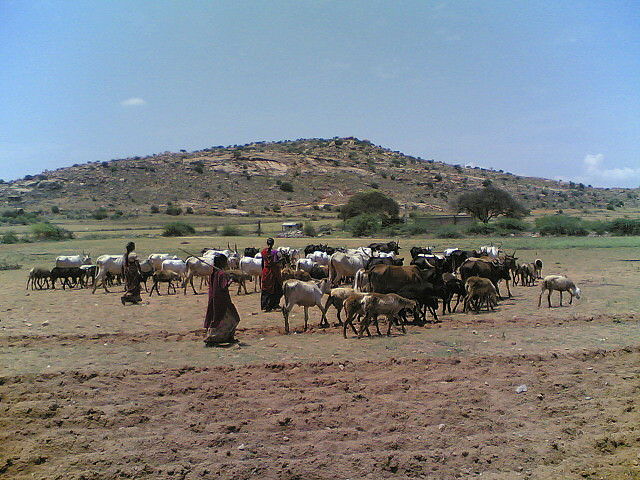 The concept of the 'Trajedy of the Commons' is often cited as being a causal factor in the origin of real property.
The original article published by Garrit Hardin in Science in 1968 was posed as a counter to the idea that issues concerning overexploitation had a technical solution. This aspect of the thesis is often overlooked by those focussing on the implications for property rights but in this sense, concerning 'maximisation ' of a resource Hardin was quite right
It is not mathematically possible to maximize for two (or more) variables at the same time. This was clearly stated by von Neumann and Morgenstern, but the principle is implicit in the theory of partial differential equations, dating back at least to D'Alembert…The optimum population is, then, less than the maximum. The difficulty of defining the optimum is enormous; so far as I know, no one has seriously tackled this problem.
He went on to challenge the view that the 'invisible hand' of the market would mean that laissez-faire in reproduction would produce the best decision for society as a whole.
He revives a theory from William Foster Lloyd from 1833 of overuse of the public commons. Unchecked, the size of the herds on the commons will soon exceed its carrying capacity. The commons will become overgrazed. The argument is presented in terms of utility theory.
As a rational being, each herdsman seeks to maximize his gain. Explicitly or implicitly, more or less consciously, he asks, "What is the utility to me of adding one more animal to my herd?" This utility has one negative and one positive component.

1) The positive component is a function of the increment of one animal. Since the herdsman receives all the proceeds from the sale of the additional animal, the positive utility is nearly +1.

2) The negative component is a function of the additional overgrazing created by one more animal. Since, however, the effects of overgrazing are shared by all the herdsmen, the negative utility for any particular decision-making herdsman is only a fraction of -1.

Adding together the component partial utilities, the rational herdsman concludes that the only sensible course for him to pursue is to add another animal to his herd. And another; and another…. But this is the conclusion reached by each and every rational herdsman sharing a commons. Therein is the tragedy. Each man is locked into a system that compels him to increase his herd without limit–in a world that is limited. Ruin is the destination toward which all men rush, each pursuing his own best interest in a society that believes in the freedom of the commons. Freedom in a commons brings ruin to all….the logic of commons has been understood for a long time, perhaps since the discovery of agriculture….The tragedy of the commons as a food basket is averted by private property, or something formally like it
He went on in terms that are quite disturbing
In a welfare state, how shall we deal with the family, the religion, the race, or the class (or indeed any distinguishable and cohesive group) that adopts overbreeding as a policy to secure its own aggrandizement? To couple the concept of freedom to breed with the belief that everyone born has an equal right to the commons is to lock the world into a tragic course of action.
He had gone beyond the arguments of Victorian social and agricultural reformers to argue for state enforced control of reproductive rights.
The specific example of grazing rights, and which Willaim Foster Lloyd and Garritt Hardin built their arguments, is not a good one, as has been pointed out many times.
They both certainly confused 'common property resources' or 'commons' under conditions where no institutional arrangements exist. Common property is not 'everybody's property' – Ciriacy-Wantrup & Bishop 1975 "Common Property" as a Concept in Natural Resources Policy. Nat. Res. J. 15, 713-727.
As George Monbiot has argues in The Tragedy of Enclosure'
Hardin's thesis works only where there is no ownership. The oceans, for example, possessed by no one and poorly regulated, are over-fished and polluted, as every user tries to get as much out of them as possible, and the costs of their exploitation are bourne by the world as a whole. But these are not commons but free-for-alls. In a true commons, everyone watches everyone else, for they know that anyone over-exploiting a resource is exploiting them.
Principally for our arguments over the origins of common property its thesis is not bourne out either by ecological or historical evidence. The concept of the 'trajedy of the commons' has profound implications in certain contexts of natural resources and population pressure, but it does not apply at all to conditions at the origins of agriculture.
Range management is an approach based on the ecology of grasslands. Fifty years ago, French researcher Andre Voisin found (Grass Productivity Island Press 1988) that overgrazing, from the point of view of a grass plant, is a function of time and timing, rather than of numbers of animals. Grasses co-evolved with grazers. Whether wild or domestic, these animals often graze a grass plant severely at first bite. What grass plants need is sufficient recovery time between bites. Therefore timing and grazing management, not numbers, is the critical factor. It is irrational for a pastoralist to overgraze on an extensive range as it is more productive to move elsewhere. Indeed as Gilles and Jamtgarred have argued, and subsequent researchers with much ethographical evidence, it is rational in the case of extensive ranges to have communal property to provide additional opportunities for rotation of herds.
Many of the arguments around commons come from arguments around overgrazing of commons near english town in the early modern period. Arguments which fuelled the case for land enclosure. As Susan Jane Bock Cox argues in her paper 'No Tragedy of the Commons' such lands were not a pastoral residuum but the poorest quality lands of forest and marsh at the edges of the lords estate, the 'wastes' on which limited numbers of animals were grazed, (the right to graze a certain number of animals was called stinting) often animals whose primary purpose was hauling ploughs. She writes
Perhaps what existed in fact was not a "tragedy of the commons" but rather a triumph: that for hundreds of years—and perhaps thousands,although written records do not exist to prove the longer era—land was managed successfully by communities. That the system failed to survive the industrial revolution, agrarian reform, and transfigured farming practices is hardly to be wondered at.
It is no surprise that overgrazing seems to most frequently occurr throughout history on the edges of expanding settlements, such as the example used by William Foster LLoyd of Boston Common. Here stinting controls will have broken down, the fixed land areas was suffering from population pressures and there was no opportunity for or inclination to extensive range grazing.
As many authors have pointed out the accumulation by dispossession of communal and traditionally managed land is the real tragedy.
The issue of overgrazing only becomes causal to the formation of real property rights where:
population pressures result from sedation and limited grazing land around settlements
where these pressures are contained through lack of potential to migrate and form new settlement and/or new grazing areas
Neither of these were primary pressures during the origins either agriculture or real property.