Daily Archives:
August 2, 2011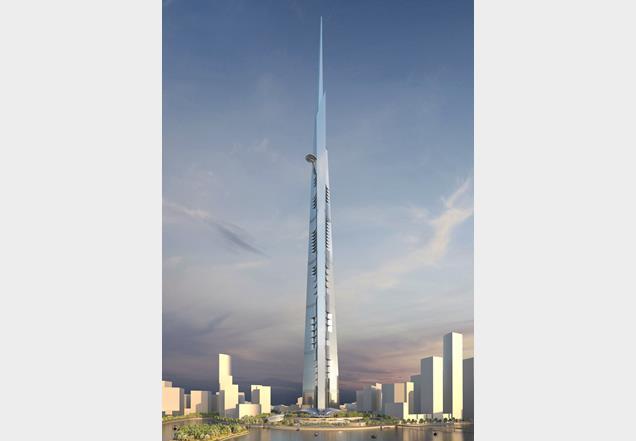 Chicago Architects Adrian Smith and Gordon Gill have been confirmed as architects on the Jedda 'Kingdom Tower', a 1km high tower the centrepiece of the Kingdom City new town (maasterplanned by HOK). It will be 173m high than Dubai's Burj Khalifa, so it will become the highest building in the world. Construction will take over 5 years, cost $1.2 billion, and lifts are expected to take 12 minutes to reach the top floor. Work had previously stopped because of the world financial crisis but will now start immediately.
The floorpace of this one buildings alone will be over 5 million sq'. . It was planned to be 1 mile tall but local geology could not support it.
From work in Bahrain where a 1 km scraper atop the largest mall in the world was planned I can say with some confidence that buildings this tall are pretty impractical.
Im not saying that because few cities anywhere can absorb as much real estate as a whole town coming on stream all at once.
Nor am I saying that because of the economics of it, the length of time to construct during which you are paying development finance. The high risks and lack of flexibility and the diminishing returns from multiple and staggered lift cores (this building will have 56) as you get ever higher.
Nor am I saying that because of the disruption of rhythm to a city's skyline from a buildings that is 4 times higher than Canary Wharf.
No for me the killer is the sheer impracticality of access arrangements.
This building needs to be at the junction of 2 8 lane highways to provide capacity for vehicles entering and leaving. Putting all of that traffic at one point, over a conventional peak period (even one that will be slightly spread because of the length of time in lifts) is a recipe for congestion, especially when considering the 23 million sqm size of Kingdom City overall. The design of the junctions alone to the scheme (see below) tell you this is misconceived. 8 lanes hitting a traffic circle in a T junction – madness. The masterplan uses road layouts and frontager arrangements that fall apart for schemes a fraction of this size and density. What is more all of the high density in the new town comes off the same road.
It is crazy planning like this that made planning in the middle east so frustrating, giant schemes designed by amateurs, too busy bigging up projects to see and resolve obvious pitfalls.
The city will eventually be on a high speed train route, but with only a 1,600 passenger per hour capacity it will only have a small modal split. What is more the site is too far from Jeddah to be connected by the proposed tram, which in any event would not have the capacity to service this.